Finding and following Jesus
Finding and following Jesus
GlobalRize reaches millions of people on social media. Every day we post inspiring messages on Facebook, Instagram, Twitter and Pinterest.
Click and view
our impact
Set free from isolation and despair
Lao Facebook page gets a lot of comments and questions
Yna Plat: active into old age
Learn the teachings of Jesus without fear
Baie dankie vir elke boodskappie
Young Pakistani asks, "How do I become righteous?"
Biblword became my comfort zone
"I can lean on Christ in any situation"
Through the different brands we employ we are able to reach people from all over the world. Because every nation requires a different approach, we mainly work in language teams. Some teams, such as the English, are very large (ca. 250 workers), while others only have a few workers. The brands and platforms we use for each language team therefore differ greatly. Below are some figures from the English team to give an impression of our impact.
We inspire our target groups with daily reading plans, among other things. Participants receive an email every day with a Biblical message, an encouragement or an exhortation to get started with a Biblical message. We often refer to website articles from our platforms or our online courses. This integral way of working has proven to be successful.
About 4500 people start an online course at GlobalRize every month. We have courses to introduce people to the Christian faith and courses that focus more on discipleship. When someone enrolls in a course and takes the first lesson they are assigned a mentor. Men get assigned men as mentors and women get assigned women. The mentor checks the lessons and asks questions to go deeper. There are many stories of people who have been greatly helped by the contact with their mentor: people who find their way back to church, who experience help in overcoming an addiction and people who come to know Jesus as their Savior.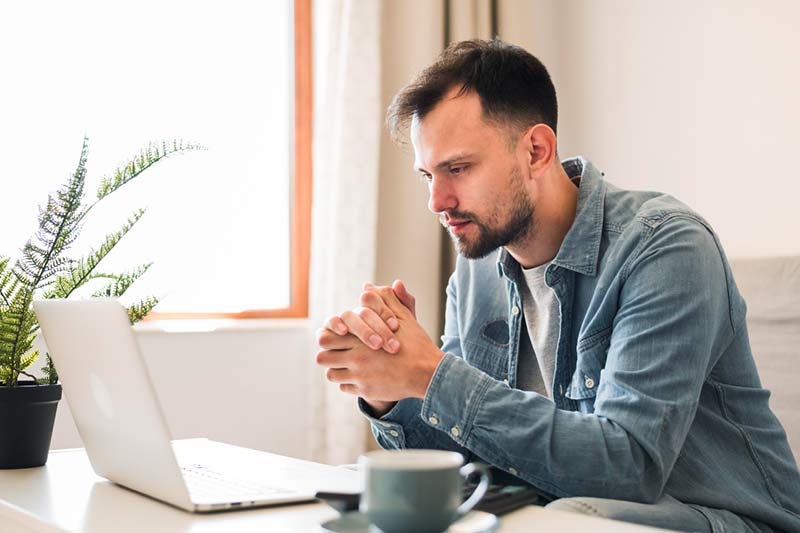 You may wonder: isn't taking an online course a bit impersonal? After all, you don't see your mentor in person. The great thing about people taking an online course is that they often entrust a lot to their mentor. Communication feels safe, because participants do not see them.
Students regularly open up about (hidden) sins and things they have been struggling with for years. They have an outlet for their questions about relationships, Bible interpretation, forgiveness, and so much more.
View our impact on the map
View our impact on the map
Africa
1 on 1 contacts per month:
African (267*), Amharic (270*), English (6609), French (425),
Fulani (opstartfase), Hausa (opstartfase), Portuguese (681*)
en Swahili (214*).

*: number of chats unknown
Europe
1 on 1 contacts per month:
Albanian (27*), German (56), English (6609), French (425), Dutch (196),
Ukrainian (unknown number of chats), Portuguese (681*), Romanian (42*),
Russian (45*) and Spanish (588*).*: number of chats unknown
Muslimworld
1 on 1 contacts per month:
Arabic (39), Dari (startup phase), Farsi ( unknown number of chats),
Kurdish (unknown number of chats), Uzbek (3*), Pashto
(start-up phase), Russian (45*) and Urdu (unknown number of chats).

*: number of chats unknown
Asia
1 on 1 contacts per month:
Bengali (86)*, English (6609), Hindi (205), Indonesian
(unknown number of chats), Japanese (unknown number of chats),
Laotian (43*), Nepali (unknown number of chats), Odía (90*),
Tagalog (84), Tamil (41), Telugu (41*) and Thai (28*).

*: number of chats unknown
America
1 on 1 contacts per month:
English (6609), French (425), Dutch (196),
Portuguese (681*) and Spanish (588*).

*: number of chats unknown
Africa
1 on 1 contacts
per month:
African 267*
Amharic 270*
English 6609
French 425
Fulani (start-up phase)
Hausa (start-up phase)
Portuguese 681*
Swahili 214*
*: number of chats unknown
Europe
1 on 1 contacts
per month:
Albanian 27*
German 56
English 6609
French 425
Dutch 196
Ukrainian unknown
Portuguese 681*
Romenian 42*
Russian 45*
Spanish 588*
*: number of chats unknown
Muslimworld
1 on 1 contacts
per month:
Arabic 39
Dari startup phase
Farsi unknown
Kurdish unknown
Uzbek 3*
Pashto startup phase
Russian 45*
Urdu unknown
*: number of chats unknown
Asia
1 on 1 contacts
per month:
Bengali 86*
English 6609
Hindi 205
Indonesian unknown
Japanese unknown
Laotian 43*
Nepali unknown
Odia 90*
Tagalog 84
Tamil 41
Telugu 41
Thai 28*
*: number of chats unknown
America
1 on 1 contacts
per month:
English 6609
French 425
Dutch 196
Portuguese 681*
Spanish 588*
*: number of chats unknown